Laurin: Wedding 10/12/2018
John was so great! He was easy to talk to and helped guide us while planning for our wedding reception. We did not have everything planned out perfectly when the reception started but John just rolled with the punches and had our family out on the dance floor ten minutes after dinner. He knew the right songs to play at the right time and we were on the dance floor all night! He was the perfect person to help us celebrate our wedding.
Rinae : Wedding 6/1/2018
John knows how to read the crowd and keep the party going! I highly recommend his services!
Abby: Wedding 9/21/2018
John was great in communicating and organizing prior to and on our wedding day! He played music that was appropriate and fit for all ages, but also followed by our requests.
David: Wedding 11/20/2016
Put simply, John is as good as it gets. ... when my daughter told us she was getting married, the first thing I did was to book John as the DJ... If you are looking for someone with impeccable attention to detail, flexibility, and skill in making the event and the individual pieces of that event come together seamlessly, you have found the person you want.
John Harper: The OBX Music Man
John was recently profiled in the Coast, a supplement to the Virginian-Pilot newspaper. Read it here.
Jonathan: Wedding 5/1/2016
"A DJ why do we need a DJ." That was my answer when two close friends popped by one evening a few weeks before our son was getting married. The friend and his son were both former DJ's. "You mean these two never thought of a DJ?"
The discussion turned to why would you risk all the effort and expense of a wedding going off the rails by not having a good DJ. Well that was all I needed to hear. I did my research and made a contact that night for what my research told me was that John the top DJ on the Outer Banks and rated as a top DJ on the east coast. .... The wedding was a smash and John really did bring it home. I think he would agree it was somewhat miraculous how rain was called for all day and it threatened but not a drop fell! ...Thanks John you really helped make it such a special day! My wife was particularly touched by you call and comments a few days later.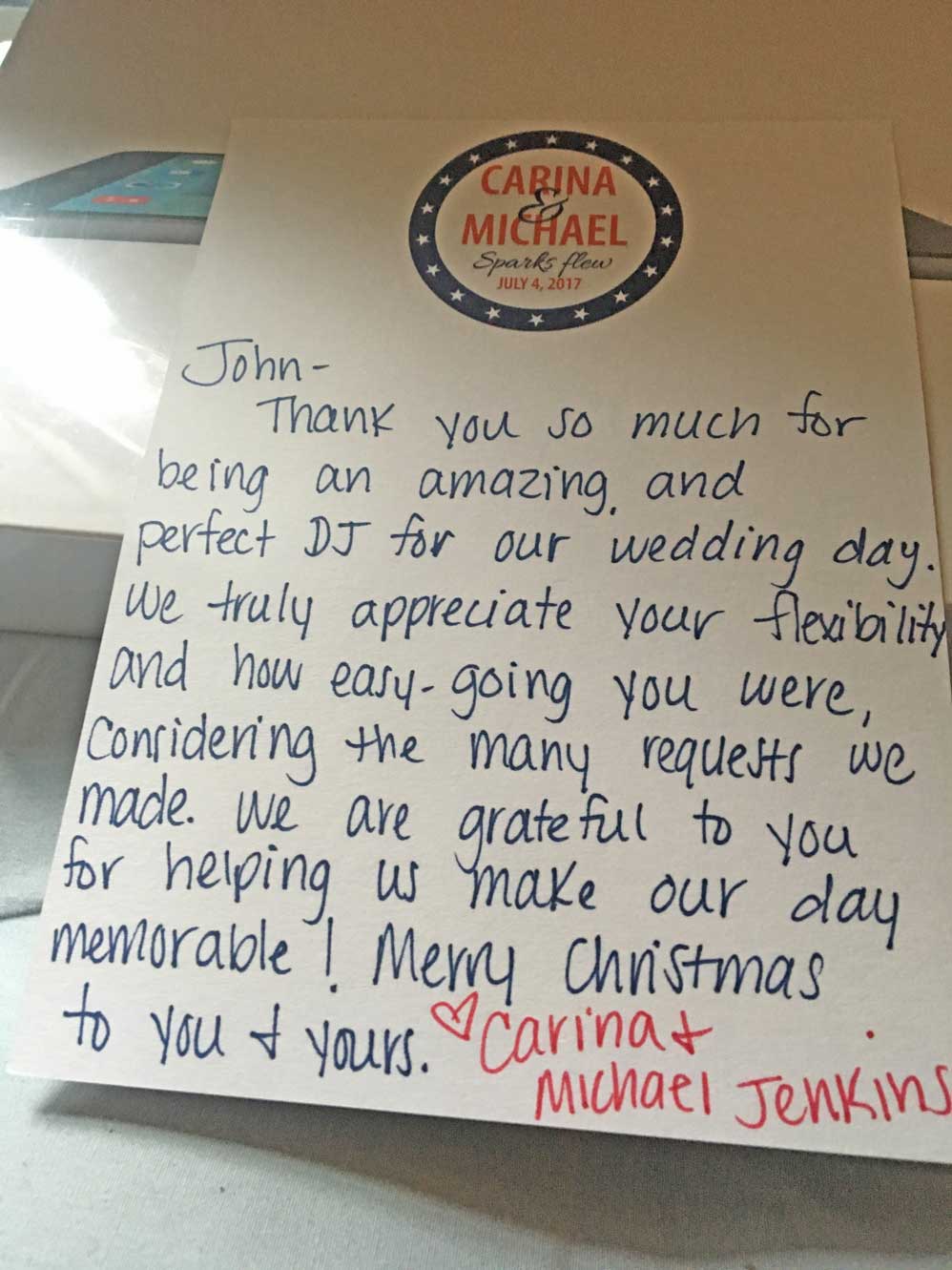 Jen: Wedding 6/10/2017
Very professional and generous. John is so easy to work with and eager to make your day special. John, I can't thank you enough to or express what a blast we all had!
Rhonda: Wedding 7/6/2017
I cannot say enough good things! He was very quick to respond to my phone calls and believe it or not I hired him from 8 hrs away. I planned my entire wedding from home in hopes that everything would be perfect when I arrived to my wedding at the beach. Everything was a hit thanks to John and my other vendors. His play list kept everyone dancing the entire time! He is an absolute laid back professional! I was completely comfortable with him!
Lee Ann: Wedding 9/14/2017
John was great! He read the crowd and played music that kept people on the dance floor. He didn't try to be the center of attention, he let the music keep the night going. John was easy to work with and helped us be stress free!
Erin: Wedding 10/15/16
John is great! ... He played the songs that we wanted as well as played songs to keep the party alive, let's just say I have never seen my Mom dance so much. ...
Angie: Wedding 9/10/2016
John was awesome! We had tons of last minute changes and he did a great job accommodating and making things smooth and awesome!! Thanks so much John!!!
Erin: Wedding 09/21/2014
John Harper is hands down the best DJ in the Outer Banks! He was easy to work with and never complicated anything! ... He played the songs we requested and also has an amazing talent at picking the best music for the specific crowd. All of my guests talked about how great the music was and it is all thanks to John! If you are getting married in the OBX reserve him NOW! He is so good that he books up fast